American Car and Foundry Company ("ACF") Engineering Office ca 1950s. ACF built railroad cars, subway cars, streetcars, army tanks, aircraft subassemblies, artillery shells, armor plate, and hospital cars.
Credit: St. Charles County Historical Society
Link: www.win.org/library/other/historical_society
Foundry Art Centre on St. Charles' North Main Street. The old American Car and Foundry Company ("ACF") train car factory building has been converted into work space and galleries for local artists. Visitors can see and talk to the artists as the artists create their art. Visitors can also view exhibitions, take classes, and buy the art that is on display. The Foundry also hosts several musical and theatrical performances throughout the year.
Credit: St. Charles Chamber of Commerce. www.stcharleschamber.org
Link: www.foundryartcentre.org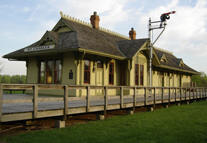 Missouri-Kansas-Texas Railroad (better known as Katy) Depot at St. Charles. The St. Charles depot is located in Frontier park near the beginning of the "Katy Trail" which is built on the former corridor of the Katy railroad. When the railroad ceased operations on its Missouri route from Machens to Sedalia in 1986, the road bed was turned into a hiking and biking trail across the state of Missouri. The Katy Trail travels 225 miles through some of the most scenic areas of the State -- including St. Charles' wine country in, and around, Augusta.
Credit: St. Charles Chamber of Commerce. www.stcharleschamber.org
Link: www.bikekatytrail.com